For many, perfume is our calling card, the means by which we make our first and last impression. For such a person, getting their signature scent is a high stakes affair, and on no day is this more obvious as on Valentine's Day.
Marija Aslimoska is a classically trained perfumer who owns Parfumarija, a perfume boutique in Dublin, and blends her own scents from her Ranelagh laboratory. Here, she explains what scents are tied to our minds as romantic, why a good sexy perfume needs something animalistic about it and where to wear your scent of choice.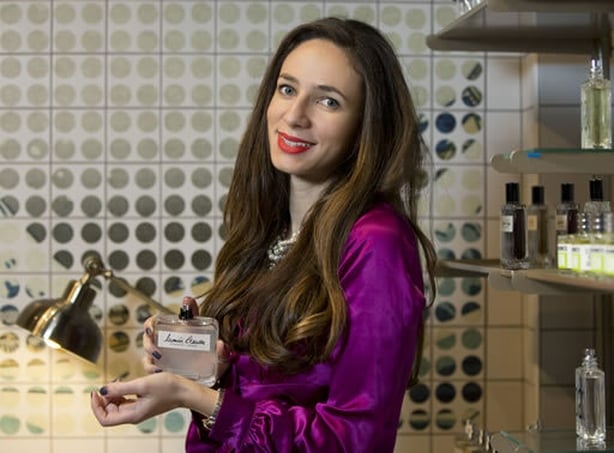 What scents are traditionally associated with romance?
A scent with white floral bouquet of lily of the valley, orange blossom, lilac, violets or white roses with a warm musk base traditionally have been associated with being romantic.
In the past, women would be innocently picking these flowers strolling on their walks and accessorising their hair, belts or their shirt pockets, and by doing so they would not only be enhancing their physical beauty, but this would make them smell lovely, too.
By wearing a perfume with these notes, a similar effect is achieved where one looks lovely and ethereal and appears somewhat Ophelia-like – floating in flowers – so very innocent and romantic.
What distinguishes a "romantic" scent from a "sexy" scent?
To create a romantic scent a perfumer would use one palette, whereas for creating a sexy scent almost certainly the palette of ingredients would be different. For a romantic scent, we would use notes that are soft florals, paired with notes of wind, or rain, or white musk that smell of clean skin and soap.
For a sexy scent the perfumer would still use floral notes but with a slight animalic or carnal feel like jasmine, gardenia, ylang-ylang, tuberose or rose damascena and instead of using clean musk notes, he may add sweet balsamic notes in the base like vanilla or tonka beans. They would warm up the whole composition in a different way, which is more sensual than romantic.
When it comes to romantic perfumes, is there much difference between perfumes of the past and perfumes today?
I would say yes and no.
Yes, due to the difference and accessibility of more raw ingredients that we have available today and many that would have been allowed to be used in the past but not anymore, like oakmoss or deer musk.
And no, because it seems the idea still remains the same. It's only executed differently.
Where is the best place to wear perfume for maximum effect?
I think your wrists and your neck. Both are pulse points, which allow the oils of the perfume to really warm up and diffuse more around us when we wear perfume there. The perfume from your neck then tends to gently go into your hair, too, given you have longer hair, and by moving your hair or your arms it means every time you move you are leaving a trail in the air around you.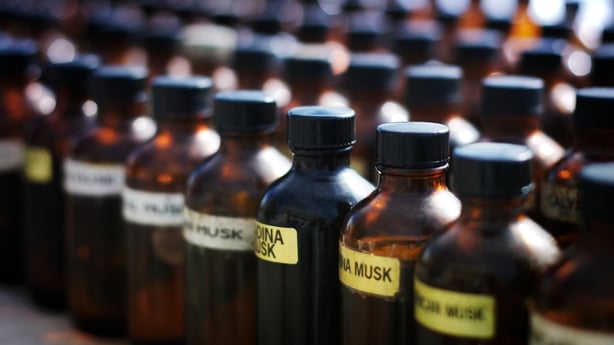 Are there any resolutely "un-sexy" scents we should avoid in perfumes?
In the end, this is very subjective, as the fragrance you love the most and is made with the most beautiful and expensive ingredients may be really repelling to your partner or love interest. In this instance, you should really avoid wearing this kind of a fragrance or a very sexy one if meeting someone new. Instead, wear a fragrance with the confidence that it smells clean and flirty rather than sexy.
And because personal taste is, well, personal, it is really hard to pinpoint ingredients that are universally recognised as not inviting as they would not be in a fine fragrance, then, anyway.
But tastes vary and we are spoiled for choice so take your time and choose carefully what suits you, your lifestyle and the taste of your love interest.
If you were to blend a perfume inspired by Valentine's Day, what would go into it?
I would still use white floral like magnolia. I love all the magnolia trees around the square where I live in Dublin that are just about to start opening their blooms and I find them very beautiful, very poetic. But they are not sexy or animalic, and I would like to give them a bit of sensuality, so I would pair this sleepy magnolia oil with the softest vanilla absolu that I can find. This would be the ideal scent for me for Valentine's Day.
[thb_button link="https://www.rte.ie/lifestyle/fashion/2019/0214/1029530-what-makes-a-perfume-sexy-and-how-should-we-be-wearing-it/?fbclid=IwAR3VmId-XkEbsMvkKGw6WH1gnjFOqKbuwIVE6R5E4SNZth5lc6fJw-pP9vM" color="black" icon="" size="large" animation="" caption="RTE INTERVIEW"]
---